Welcome to FAB (Flowers And Butterflies)!
FAB's vision is: "To turn Swindon into the butterfly capital of Europe" by establishing wildflower habitats in urban areas.
The FAB logo :-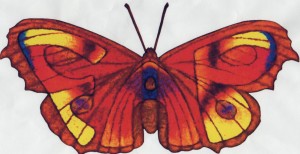 FAB enriches urban environments, making insect life abundant by establishing wildflower habitats, not just to help nature but also benefit local communities in and around Swindon.
The potential for transforming Swindon is enormous, and FAB now has the know-how to do it. The dream is that, one day, citizens from cities far and wide will come to Swindon to be inspired, then go back and do the same to their parkland.  The logo may spread.